'David Hockney: Current' taps into the so-now iPad and iPhone art of Britain's greatest living artist
BY SOPHIE DAVIES
World-premiere exhibition 'David Hockney: Current' at Melbourne's National Gallery of Victoria is turning heads not just for the iconic English artist's trademark colourful portraits and paintings of interiors and nature, but also for his more recent tech-driven art.
A major solo show dedicated to this still-influential 79-year-old artist, running until 13 March 2017, it features more than 1,200 works from the last decade of Hockney's career, including paintings, photography, digital drawings and video art. Among them are significant new pieces, such as immersive room installation '4 blue stools', a digitally constructed image (or 'photographic drawing') of Hockney's Hollywood Hills studio presented as floor-to-ceiling wallpaper with custom-created stools and chairs. Also striking is the 60-metre long hall housing recent oeuvre '82 portraits and 1 still life', painted over several years and incorporating portraits of entertainer Barry Humphries, architect Frank Gehry and designer Celia Birtwell.
ABOVE: David Hockney inside the world-premiere exhibition 'David Hockney: Current' at the National Gallery of Victoria, Melbourne
BELOW: '4 blue stools' 2014, photographic drawing printed on paper, mounted on Dibond, edition 5 of 25; installation view, including iPad drawing 'Yosemite I', October 16th 2011 (1059); installation view
ABOVE: Installation views of 'David Hockney: Current' at the NGV International, Melbourne
Think Hockney and you probably imagine paintings of sun-kissed swimming pools or primary-hued furniture dotted around LA living rooms – in Vuk Vidor's witty print listing artists' attributes, he states 'Hockney owns California'. More recently in 2004, Bradford-born Hockney returned to his native Yorkshire, capturing its vibrant countryside and changing seasons.
But it's his foray into new-tech digital art that's most arresting here, including works crafted on iPads and iPhones. Over 600 iPad works – some animated – span self-portraits, still lifes (from flowers to tea pots, slippers and chargers) and large-scale landscapes of Yorkshire and Yosemite National Park. They're presented both on screens and as monumental prints, some almost four metres tall, alongside a recent video work focussed on Hockney's iPad drawing practice.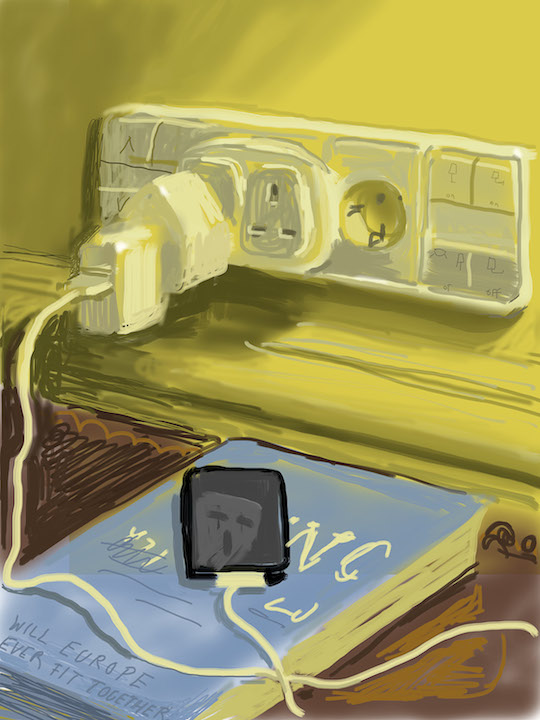 ABOVE: 'Self-portrait', 25 March 2012, No. 3 (1236), iPad drawing; 'Untitled', 91 2009, iPhone drawing; 'Untitled', 655 2011, iPad drawing
This is the first show to focus on Hockney's captivating iPad and iPhone works, proof of his constant experimentation. In the past he has made art using Polaroid photos, colour photocopiers, fax machines, computers, and high-definition multi-screen videos, so he's always been an early adopter. Every suit Hockney owns sports a large pocket, once used to hold a sketchbook, but now containing his go-to iPad. 'I've been able to practise the iPad a lot in the last few years... and I've really loved mastering it,' he says.
BELOW: Installation view of 'David Hockney: Current' at the NGV International; 'The Arrival of spring in Woldgate, East Yorkshire in 2011 (twenty eleven)' – 31 May, No. 1 (900), and 2 January (1147), iPad drawings printed on six sheets of paper mounted on Dibond
BELOW: 'Bigger trees near Warter or/ou Peinture sur le motif pour le nouvel age post-photographique' 2007, oil on 50 canvases
Hockney was quick to embrace this emerging design technology, getting the brushes out straight away and enjoying the method of drawing on the screen. 'You're drawing on a sheet of glass, really, and you can't really overdraw, which you can on a piece of paper.' The digital canvas is endlessly expandable though, allowing Hockney to zoom in to add more detail or zoom back out to view the whole composition. He credits this digital innovation with reviving the fading art of drawing, confessing, 'I was amazed that it was the telephone which can bring back drawing. I thought that was very funny!'
ngv.vic.gov.au

'David Hockney: Current' is at the NGV International, 180 St Kilda Road, Melbourne until 13 March 2017. UK fans can also catch major retrospective 'David Hockney' at Tate Britain, Millbank, London SW1 until 29 May 2017
Photos: Wayne Taylor (portrait); Richard Schmidt