Pritzker Prize-winning Japanese architect Shigeru Ban is a champion of disaster relief, pioneering the use of temporary paperchip and shipping container shelters, and balancing pro bono projects with commercial work. As an inspiring show at Sydney's Sherman Contemporary Art Foundation (SCAF) explores his humanitarian structures, we met this maverick talent.
BY SOPHIE DAVIES
What's your design philosophy?
Problem-solving. Problems solved by design.
What inspired you to get involved with disaster relief?
I was tired of working for privileged people who had money and power. I like to design monuments, but I was quite disappointed that I was mainly working for privileged people, not the general public. Earthquakes don't kill people, but building materials do. I saw the very poor condition of temporary housing after natural and man-made disasters, and I thought I could improve the condition of these facilities. For me there is no difference between my pro bono and commercial work because I have the same interest and energy for both, and I get the same satisfaction.
What materials intrigue you?
I use any materials available locally, such as paperchip – not paper by itself – which exists anywhere in the world, and is cheap, strong and lightweight. Even when I was working in Rwanda I found a paperchip factory in the capital Kigali. I'm especially interested in humble materials. If say I used steel, it's a wonderful material, you can do anything with it, but wood and paper have many more limitations. I'm interested in designing with the limitations of the material. Paper is interesting because it's lighter and weaker. I like to take advantage of the weakness of this material to make something different.
TOP: Japanese architect Shigeru Ban
ABOVE: Ban's Cardboard Cathedral for Christchurch, New Zealand, was built as a community gathering space after the 2011 earthquake devastated the city's historic stone cathedral (see our earlier post). An interactive model of it forms part of Sydney exhibition 'The Inventive Work of Shigeru Ban, SCAF Projects 34 & 35'
What's next for you in terms of disaster relief?
I don't know, I hope I won't be busy! My goal is to make buildings that will be demolished. Shelters that will be dismantled after six months, with materials that can be recycled and reused after, with no waste. The problem is people don't want to move out of my temporary houses, so many of them are becoming permanent!
So is the line blurring between permanent and temporary buildings?
Concrete can be very temporary if developers get rid of it, whereas paper structures can be permanent as long as people love them, like my emergency cathedral for Christchurch. I would like to continue building monuments to be loved by people. Besides, beauty doesn't come from the kind of material you use, it comes from the proportions. Creating light, shadow, natural ventilation and space between inside and outside are what make living conditions beautiful.
ABOVE: Two original-scale reproductions of Ban's emergency structures occupy SCAF's Courtyard Garden. His paper log houses for Kobe, Japan (1995), and Ecuador (2016-ongoing) were designed in response to earthquakes and cost around US$2,000 a unit to build. Note the care taken to match the sandbag-filled, donated beer crate bases to the huts
After designing France's Centre Pompidou-Metz in 2010, your Paris concert hall La Scene Musicale was unveiled in April. Tell us more.
It was a former factory site on the Île Seguin. They wanted the design to be a symbol for the western gateway of Paris. I'm not the kind of person to develop unusual shapes. For me it's very challenging to design something iconic and monumental. I made a sail of solar panels, which rotates around a curved timber-clad auditorium, following the sun. Mosaic tiles inside the concert hall change colour from green to red.
What's currently exciting you in design or style?
Nothing new comes out anymore. Generally speaking, architects don't like inventing. People are afraid to be sued. If you do something innovative or experimental you can be sued very easily, especially in the United States. Now everyone's competing with different, funny shapes, which can be created by computer easily. They're interesting, but it's not innovative technology.
Any ideas for a solution to affordable urban housing?
I don't know why this is a problem because there are so many ideas to make affordable housing – as long as developers don't mind making less profit! It's not about creating tiny houses, it's about the construction method. Even with the same space we can make a comfortable house inexpensively. But cities are no longer being designed by urban planners or the government, now commercial developers are leading the way.
ABOVE: Installation details of SCAF's Kobe shelter, which features thick paper tubes for walls, lined with insulation and topped off with tent material; The Ecuador house teams paper tube walls with green-hued bamboo sheets, plus a thatched roof. Both eco-friendly units include toilets, and are easy to dismantle or recycle
Where or how do you find inspiration?
I don't suddenly get inspired by other things. I just continue developing my original ideas to the next stage, little by little. Rather than keeping an eye on cutting-edge trends or magazines, I'm just busy developing my own stuff, as I don't want to be influenced by others.

Who are your design heroes?
Buckminster Fuller and Frei Otto. I like architects who invent their own material or structural system, because I hate to be influenced by the fashionable styles of the day. They both invented their own systems to design things according to the material. I was lucky to collaborate with Otto on my Japan Pavilion for Hanover's Expo 2000 and I learned a lot from him. He always tried to use the minimum material and minimum energy to make maximum space. My favourite architect though is Alvar Aalto. I designed an Aalto exhibition in Tokyo in 1986, but didn't want to waste precious wood for a temporary space. That's when I discovered that paperchip, made of recycled paper which I turned into a tube, was much stronger that I'd expected and inexpensive.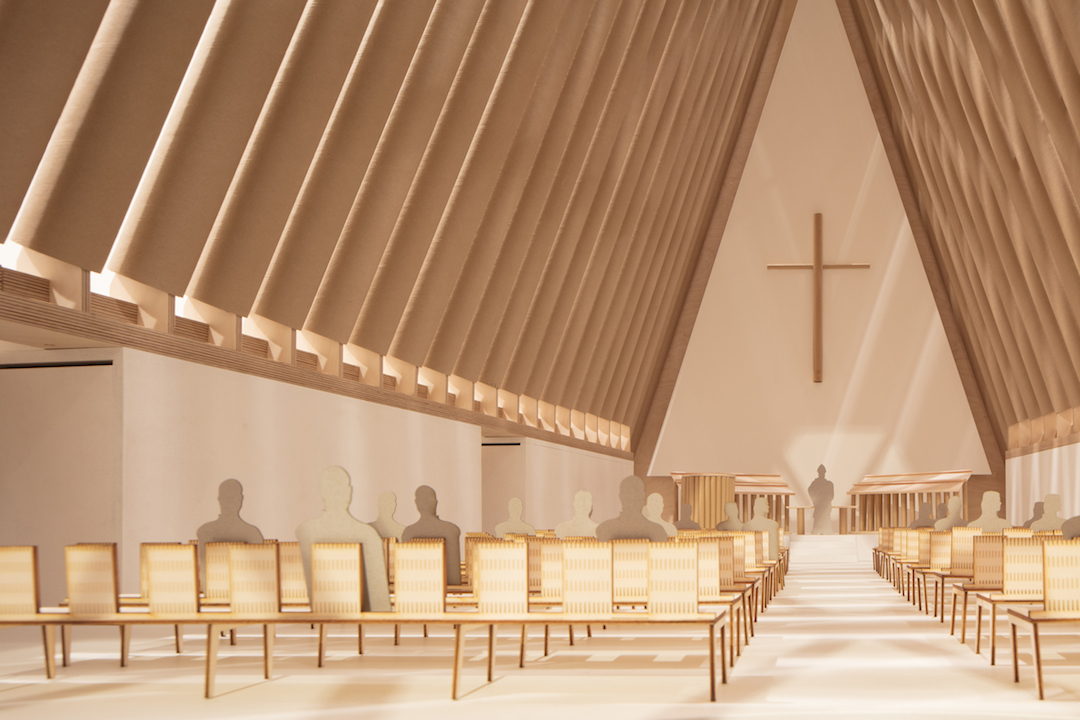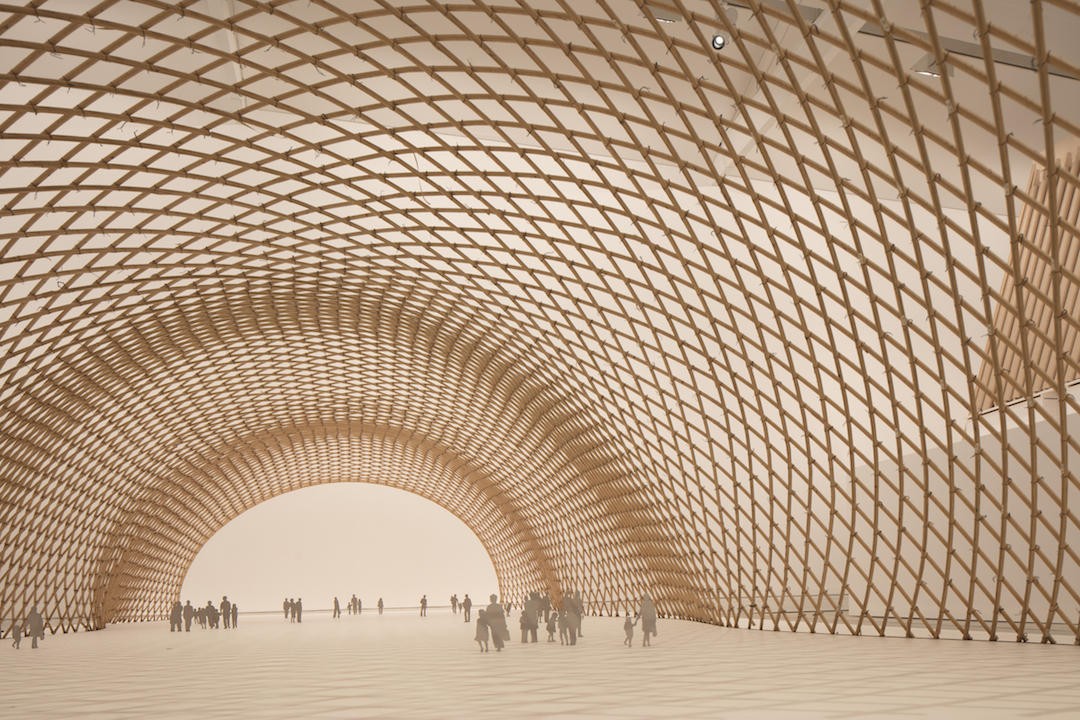 ABOVE: Inside, the SCAF exhibition features scale models, videos, and examples of building joints and partition systems developed by Ban for his temporary shelters; A model details the interior of the emergency cathedral for Christchurch, New Zealand, including bespoke furniture; Another showcases the sinuous roof of Ban's Japan Pavilion for Hanover's Expo 2000, a collaboration with late German architect Frei Otto
Where's on your travel wish list?
I love travelling... to enjoy the local food and wine. That's why I love coming to Australia! I commute every week between Tokyo and Paris, where I have offices. Usually I travel at weekends, so as not to waste the week days.
What should a design fan see in Tokyo?
I would recommend going to Kyoto instead. In Tokyo most of the buildings are designed by big firms, who aren't usually very good architects, so they're boring. It's the same for most major cities, whereas Kyoto has many interesting innovations. It's a more traditional town, and making buildings was so difficult in the past that you needed great ideas and craftsmanship.
What's your social media of choice?
I don't do it at all. Does my office use Instagram? I don't know!
shigerubanarchitects.com sherman-scaf.org.au
'The Inventive Work of Shigeru Ban' is at Sherman Contemporary Art Foundation, 16-20 Goodhope Street, Paddington, Sydney until 1 July 2017 (open 11am-5pm, Wednesday to Saturday)
Pictures: Brett Boardman (SCAF)