It's an understatement to say Bethan Laura Wood likes colour. Looking every inch a modern-day Frida Kahlo, the bright young British designer is wowing the global creative scene – and that's not just down to her eye-popping clothes. Her work, from furniture and glass to ceramics, lighting, textiles and fashion, is bold, vibrant and wonderfully expressive. This week sees Wood curating Broadgate's Makers Mini Market, where East London designers will showcase cross-disciplinary wares. Expect the unexpected...
BY CLAIRE BINGHAM
Tell us about this week's pop-up Makers Mini Market in London.
I was invited to curate the Makers Mini Market and wanted to see how it could be interesting or different from just another type of makers market. I really liked the idea of bringing together a mix of creative people from East London whose work I follow on Instagram and that crosses over different disciplines.
What can we expect?
There's dyed marble from Silo Studio, Fashion East newcomer Harry Evans will be showing smaller accessories, and illustrator and sculptor Saelia Aparicio will be showcasing her pickle jars filled with balloons. There are seven designers in total, each with their own shed and creative world. One shed, devoted to workshops and talks, has my pattern all over it and I will be in and around the market.
ABOVE: Bethan Laura Wood in her studio with a bag from the forthcoming 'Toothpaste' collection for luxury Italian accessories brand Valextra. Wood designed witty handles and clasps for the SS18 range
BELOW: Two worlds collide as colourful patterned sheds nestle among the vast corporate structures of Broadgate for Makers Mini Market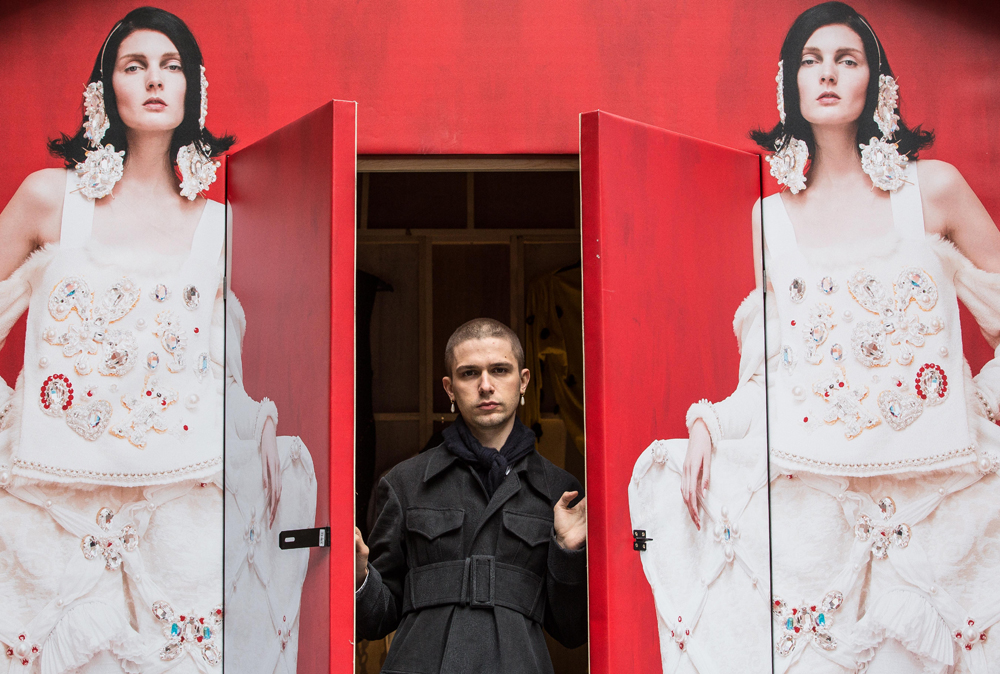 ABOVE: Bethan Laura Wood (centre) with her band of East London creatives from Makers Mini Market. From left: Tino Seubert, Beth Postle, Attua Aparicio Torinos of Silo Studio, Ryan Coleman Connolly, Kim Thomé, Saelia Aparicio, Harry Evans; Evans invites you in to see his take on menswear and accessories
You've designed for Nilufar Gallery, Bitossi Ceramiche, Kvadrat, Abet Laminati and Hermès, among others. What are you most known for?
My style is very colourful with lots of layers and texture. My work often focuses on materiality and exploring that through design. I also do a lot of locality-based work and make direct references from places when I have the opportunity to travel. For example, I've completed a range of designs based on Mexico City: the colours, patterns and architecture there all resonate with me.
Where's next on your travel wish list?
I went to Japan a year ago and absolutely loved it, so I would really love to go back and work with artisans there. I'm also a big lover of kimonos. I would like to spend time seeing how the fabrics are woven and explore how the shapes could be taken in a furniture direction, while honouring their proportions.
BELOW: Wood's spectacular blown glass lights at Peter Pilotto's 'Townhouse Takeover' during September's London Design Festival 2017
Your floor lamps for Peter Pilotto were a hit at September's London Design Festival and your work appeared in three of our top LDF17 FizzPicks. What was your highlight?
I love the opportunity to collaborate with others on a project like the Peter Pilotto Townhouse Takeover. Much like the Makers Mini Market, I enjoy everyone working together to create something special.
How does working in fashion and interiors compare?
In the fashion industry, the speed is crazy fast, whereas furniture production has a much longer lead time. For me, I really enjoy the crossover. I've just collaborated on a line of handles and clasps for Valextra in Italy, for a limited-edition range of their bags called the 'Toothpaste' collection. It was great to have access to their production and find a way to incorporate my skills too.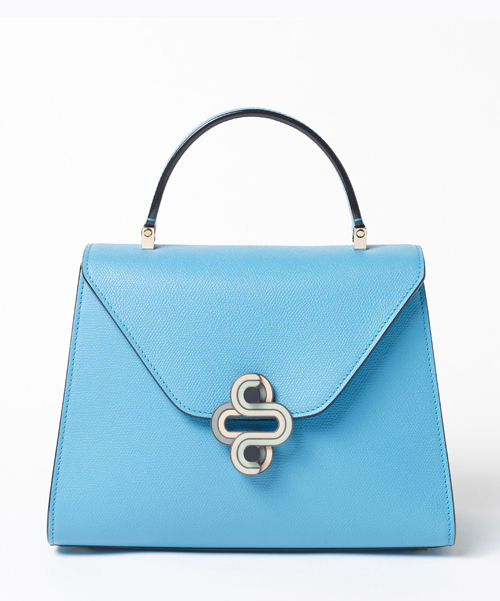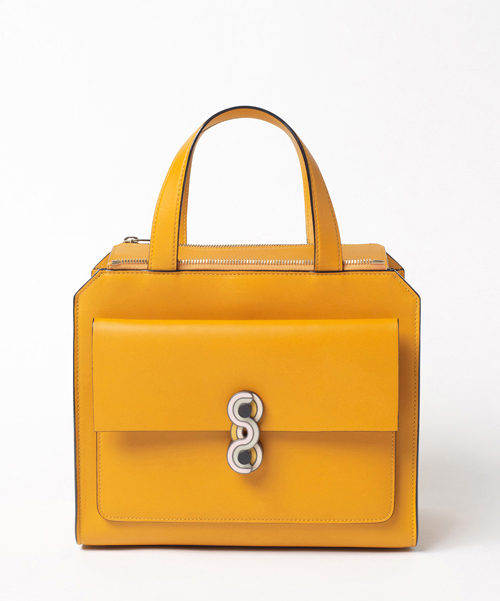 ABOVE: Classics with a twist... Milan brand Valextra's 'Toothpaste' collection of iconic 'Iside' (left) and 'Passepartout' (right) handbags updates the original designs' sleek lines with Wood's cartoon-like, graphic handles and clasps. A new 'It' bag duo is born
Left to your own devices, what's your interior style?
There's a lot of stuff in my house! It's not minimal. A lot of my work is inspired by colours, patterns and things that I find at flea markets, so my home is pretty much filled with stuff like that. All of these things go on to inspire a project.
Is there an era or style that you're drawn to?
I have a love of 60s Pop furniture and Memphis. I like the joy and excitement in all of their colours. I also live in an amazing Art Deco building in the middle of Hackney. I love it. The signature colour of the architecture is dusky blue with mint-green staircases and pastel-pink doors. I knew it was the place for me.
What qualities do you most like in a room?
I find lots of objects comforting. A minimal, blank white space may be the dream for some but it is the opposite for me. I love to enter people's spaces or worlds where there are so many things to look at and explore. I like things busy.
Growing up, what was the dream?
I've always been a collector. When I was younger, I wasn't allowed to paint my walls. I never got my ideas for interior decor past my parents, so I'd change things up with objects instead.
What part of the design process do you enjoy most?
I love dreaming up concepts and realising the difficult bit of turning ideas and sketches into something amazing. I like model making, so that always makes me happy when I can get off the computer and start building something in 3D. Also, when I go into a workshop and start talking, touching materials, seeing what's working and what's not, that's really enjoyable for me.
Who are your design heroes?
My tutors at the RCA, Jurgen Bey (above left) and Martino Gamper (left), have been really influential on my work but there are many, many, many others.
What are you most proud of?
Usually, it's the last thing I've done. I like to keep challenging myself. I have a soft spot for my laminate marquetry. It's a language and a technique that I love playing with so that's one of my favourite pieces.
What's your social media of choice?
I'm aware that I must take part in social media (*sighs*). I'm not really a writer, so I use Instagram the most. It's fun to see what other people are posting and photographing.
bethanlaurawood.com
broadgate.co.uk/makers-mini-market-east-london-where-to-shop
#BroadgateDESIGN
Makers Mini Market, curated by Bethan Laura Wood, runs from 4 to 7 October 2017 at Finsbury Avenue Square, Broadgate, London EC2 (11am–6pm, free admission)