Louise Olsen is one half of influential Sydney duo Dinosaur Designs, alongside artist partner Stephen Ormandy. Pioneers of using resin to create gorgeous homewares and jewellery, the pair takes inspiration from nature, art and the city they call home...
BY SOPHIE DAVIES
What's your design philosophy or style?
I like to create forms that nurture people's senses. I love the juxtaposition between materials. I like to humanise modern materials such as resin and metals.
What do each of you bring to the design process?
Stephen and I work independently on our own designs for Dinosaur Designs. We both have our own signature, design sensibility and understanding of resins that we have worked with for over 30 years now.
TOP: Louise Olsen and her work/life partner Stephen Ormandy, co-founders of Sydney homewares and jewellery brand Dinosaur Designs
ABOVE RIGHT : Debut hardback book 'The Art of Dinosaur Designs', published recently by Penguin Lantern, shares the studio's vision
Tell us about your new book The Art of Dinosaur Designs
Our book was a chance to open our studio doors and allow people to see behind the scenes of how Stephen and I design and create, and to discover some of the inspirations behind our pieces. We didn't want to do a straightforward history, but we do cover some of the highlights of the past 30 years.
Where or how do you find inspiration?
I'm constantly inspired by nature. I love the way nature takes time to evolve and perfect. I find that when designing an object it takes time and there is a lovely flow that happens as one idea leads to another.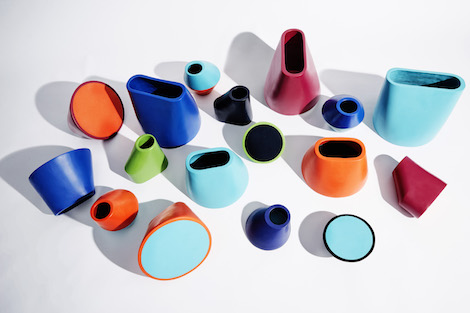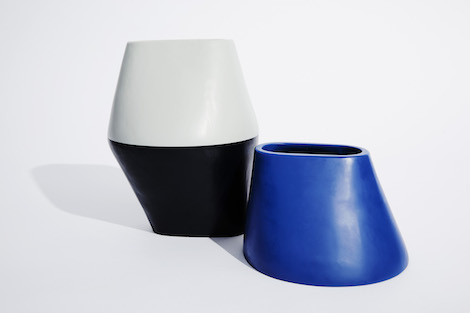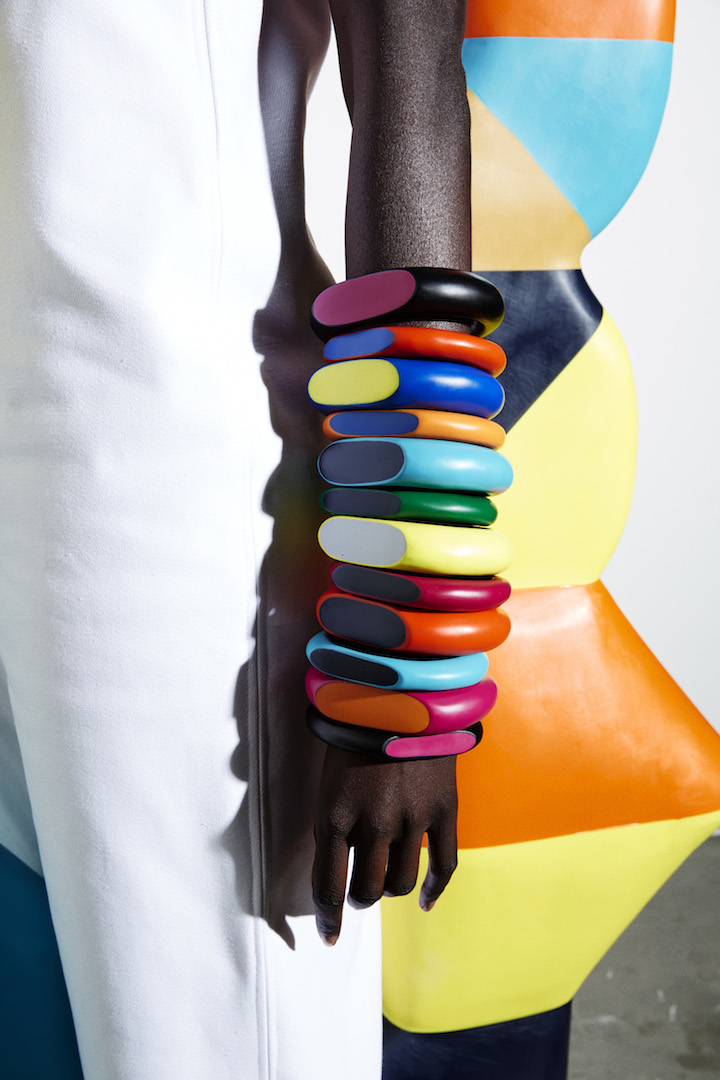 ABOVE: Launched in October 2016, the duo's latest collection 'ColourBlock' features 'Totem' vases, pictured, alongside platters, plates and salt dishes in bold and soft primary hues. It also boasts sculptural jewellery, including bangles, earrings, rings, necklaces and neck cuffs, exploring colour blocking
What materials and colours are you currently drawn to?
At the moment I'm working on a collection inspired by sandstone, called 'Sand', launching in February 2017. I love all the variation of pigments in the sands from Central Australia to coastal beaches. Our recent 'ColourBlock' range played with solid hues, juxtaposing them, from cobalt blue and vivid coral red to refreshing accents of bright grass green, reminiscent of summer days.
How have art and nature influenced your practice?
We both have a passion for the world of art and nature as it offers never-ending change and beauty.
ABOVE: Sunrise at the iconic Sydney Opera House, one of Louise Olsen's favourite design destinations, by Danish architect Jørn Utzon
Is Sydney a big inspiration? And do you have any favourite local design hot spots?
We can't help but be inspired by the ocean, the nature and the light of Sydney. For our favourite design spot it's hard to go past the Sydney Opera House. We're so lucky to have it – it's an incredible icon.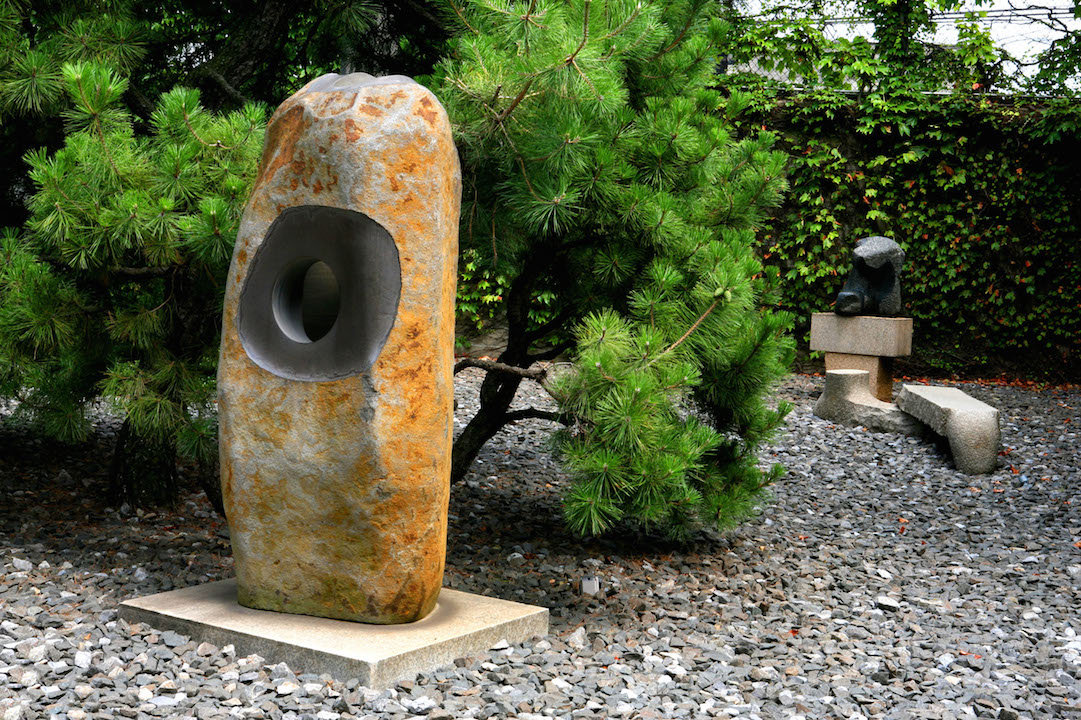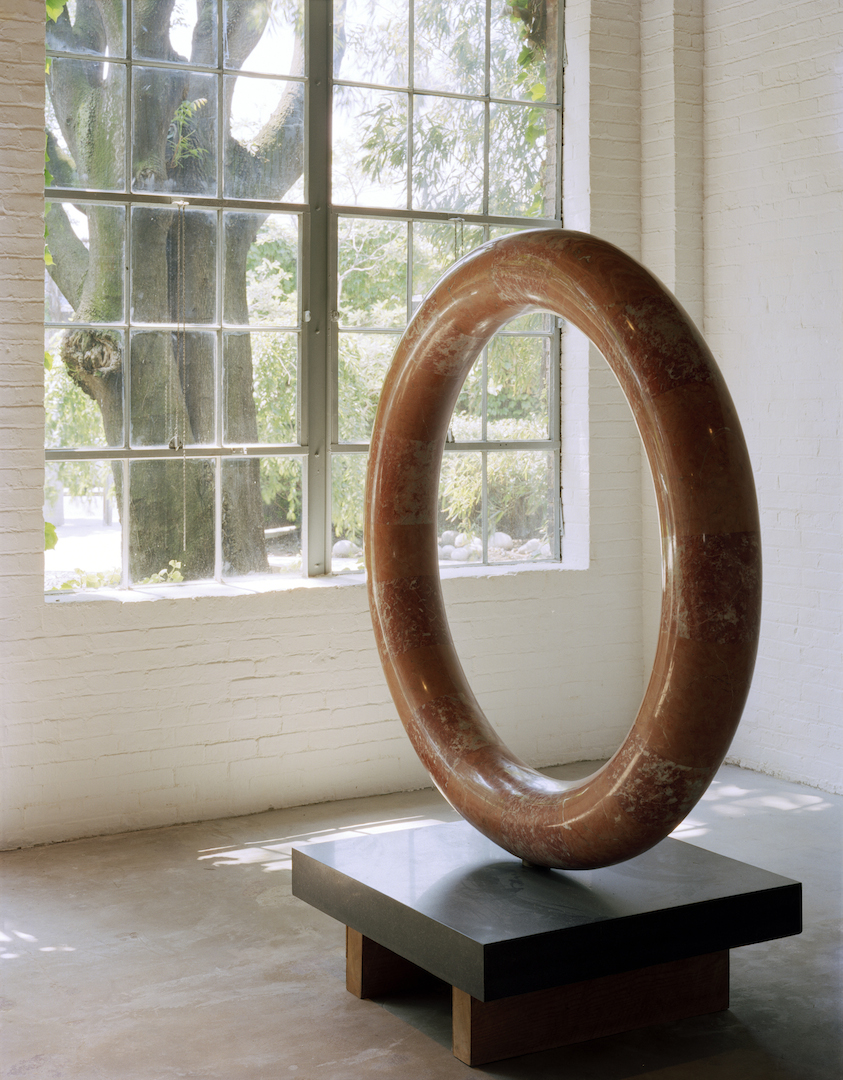 ABOVE: One of Olsen's influences is American designer and sculptor Isamu Noguchi. Pictured is his walnut wood and plate glass 'Coffee Table' (IN-50), 1944; The freeform 'Cloud Sofa and Ottoman', c 1948, in fabric, foam, wood and iron; the Sculpture Garden at The Noguchi Museum, Long Island City, New York; A Noguchi installation at the museum
Who are your design heroes? Or which era, aesthetic or interior has influenced you the most?
Giacometti, Picasso, Calder, Bertoia, Ray and Charles Eames and Noguchi are our design heroes; they were all artists who also designed furniture, ceramics, jewellery, sets and costumes for film and theatre. Every era has its moment of beauty. I tend to think more about the future.
Where's on your travel wish list and why?
I'd love to see more of India; it's so unexpected and varied, and there's so much ancient history that's still alive that sits alongside contemporary life.
BELOW: Dinosaur Designs' curvy store in The Strand Melbourne, and a more linear look in their Sydney boutique in the historic Strand Arcade
You have shops in Sydney, Melbourne, Brisbane, New York and London – any plans for future launches?
We're currently working on a new store in Crosby Street in New York, which will be open early in 2017.

What social media do you use most?
Instagram – because of its wonderful visual stories.
dinosaurdesigns.com.au
Pictures: Rachel Kara (portrait); Heleena Trahanas (book cover); Bec Parsons ('ColourBlock' collection, styled by Mark Vassallo, model Duckie Thot); Sydney Opera House; The Isamu Noguchi Foundation and Garden Museum, New York (Noguchi furniture); George Hirose (Sculpture Garden); Elizabeth Felicella (Noguchi installation view)
See our review section The Library for more on new book 'The Art of Dinosaur Designs'