London's 2016 Serpentine Pavilion unzipped! A triumph of materials and form, Bjarke Ingels' intriguing design is accompanied by four startling Summer Houses
BY SOPHIE DAVIES
It wouldn't be summer in London without the annual unveiling of the Serpentine Pavilion, bringing cutting-edge modern architecture to Kensington Gardens beside the Serpentine Gallery. 2016's Serpentine Architecture Programme sees Denmark's Bjarke Ingels take centre stage with a jaw-dropping pavilion inspired by an 'unzipped wall'. Whereas 2015's pavilion by Spain's SelgasCano was all about psychedelic colour, Ingels' creation explores poetic material form.
Design fans can also explore four accompanying Summer Houses by international talents – Asif Khan, Kunlé Adeyemi, Barkow Leibinger and Yona Friedman – as part of an expanded offering for the 16th edition, on show until 9 October 2016. All riff on Queen Caroline's Temple, a classical 1734 summer house by William Kent a skip from the gallery. What's more, each temporary structure showcases an architect who has never built in the UK before.
ABOVE: Serpentine Pavilion 2016 by Bjarke Ingels Group (BIG)
ABOVE RIGHT: Danish architect Bjarke Ingels in front of his pavilion
BELOW: An 'unzipped wall', Ingels' pavilion is formed from stacked, sculptural fibreglass frames with an inviting chamber within
SERPENTINE PAVILION
Bjarke Ingels Group (BIG)
Transforming a straight line into a three-dimensional space, Copenhagen/New York-based Bjarke Ingels Group (BIG)'s Serpentine Pavilion takes its cue from an 'unzipped wall'. The cavity within becomes a dramatic space for a daytime cafe, events and the Park Nights cultural programme, while the elegant spire above acts as a cathedral-like beacon. It's simultaneously cubic and curvy, chunky and translucent, geometric and ethereal, or as Ingels puts it: 'A structure that is freeform yet rigorous, modular yet sculptural, both transparent and opaque, both solid box and blob.'
Borrowing its structure from a basic brick wall, it is formed from fibreglass frames rather than clay bricks or stone blocks, with the wall then pulled apart to reveal the cave-like interior. 'This unzipping of the wall turns the line into a surface, transforming the wall into a space,' says Ingels. The effect is part valley, part hillside, setting up seductive repetitions and undulations via waves of component blocks, harnessing graphic light and shade. Inspiring recent projects by BIG include 2 World Trade Center in New York and the Danish National Maritime Museum.
 
SERPENTINE SUMMER HOUSES
Asif Khan
Up-and-coming London architect Asif Khan discovered that the original Queen Caroline's Temple was positioned to catch the sunlight from the nearby Serpentine Lake, as well as the rising sun on the queen's birthday, and aims to recapture that combination in his delicate Serpentine Summer House. A sinuous circle of white timber staves, its circumference has been unpeeled, allowing changing views of the temple. A polished mirrored platform and roof inside amplify the experience. Khan's past work includes the colourful Coca-Cola Beatbox Pavilion at the London Olympics and Littlehampton's contemporary West Beach Cafe.
Kunlé Adeyemi
Kunlé Adeyemi (head of Amsterdam/Lagos practice NLÉ) offers an inverse, rotated replica of Queen Caroline's Temple for his Serpentine Summer House, turning its robust form into a reimagined sculptural installation. Shelter and relaxation is still the name of the game, with rough, prefabricated sandstone building blocks forming a room, doorway and window for visitors to interact with the space and each other. While the sandstone is similar to the temple's materials, the interior surfaces are softer. Adeyemi's combination of carved-out void, homely interior and fragmented furniture blocks offers a deconstructed, playful temple for the 21st century. If you love it check out his prototype Makoko Floating School designed for a Lagos lagoon.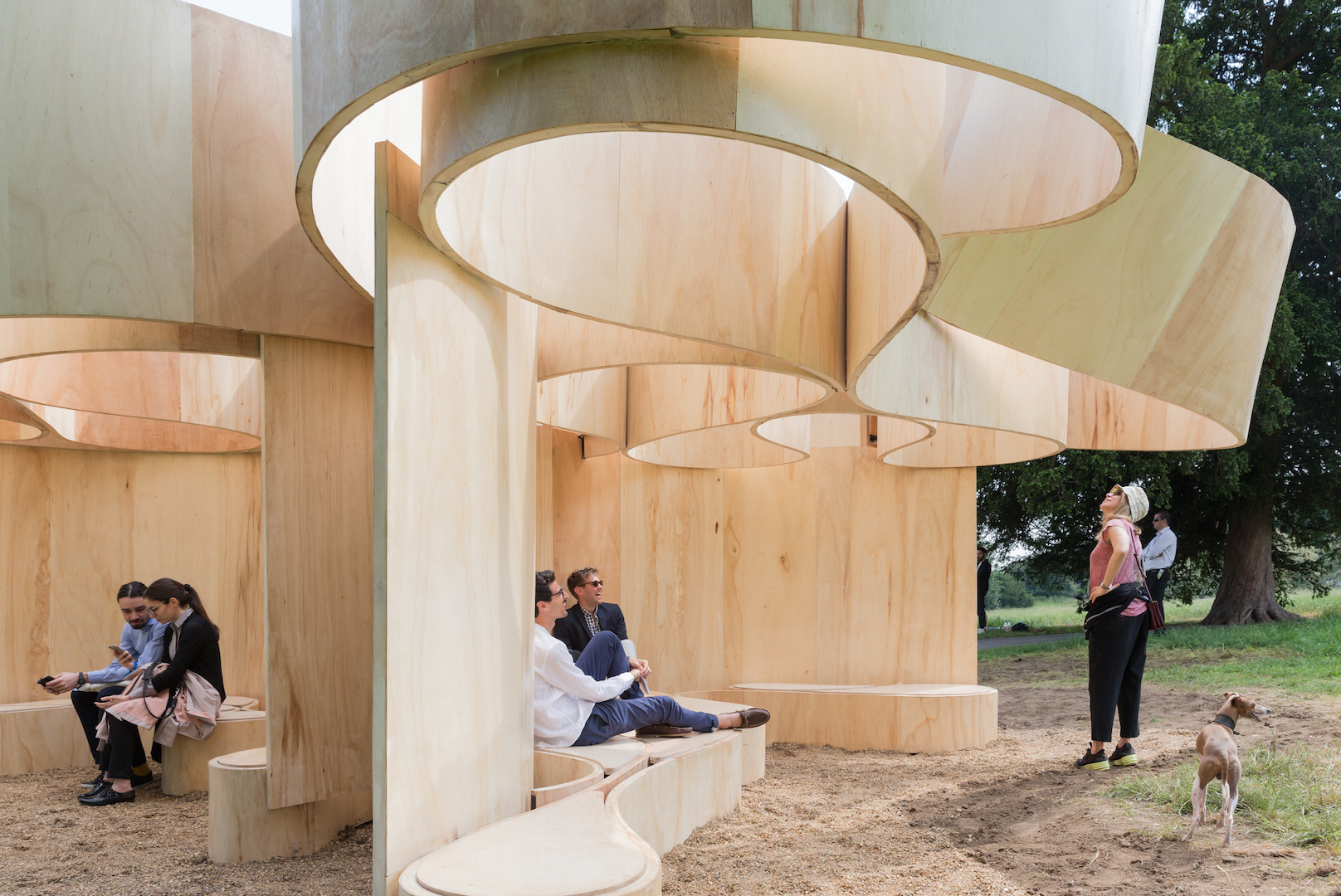 Barkow Leibinger
Barkow Leibinger (Berlin/New York) took inspiration from another, extinct 18th-century pavilion by William Kent, on a man-made hill near the gallery, which rotated and offered 360-degree views of the park. At some point it disappeared, until this 2016 Summer House in-the-round paid homage to the original. Open to its surroundings, it looks like a ribbon, thanks to its undulating structural band of plywood on a steel frame. Loopy but lovely, it's somewhere to see and be seen.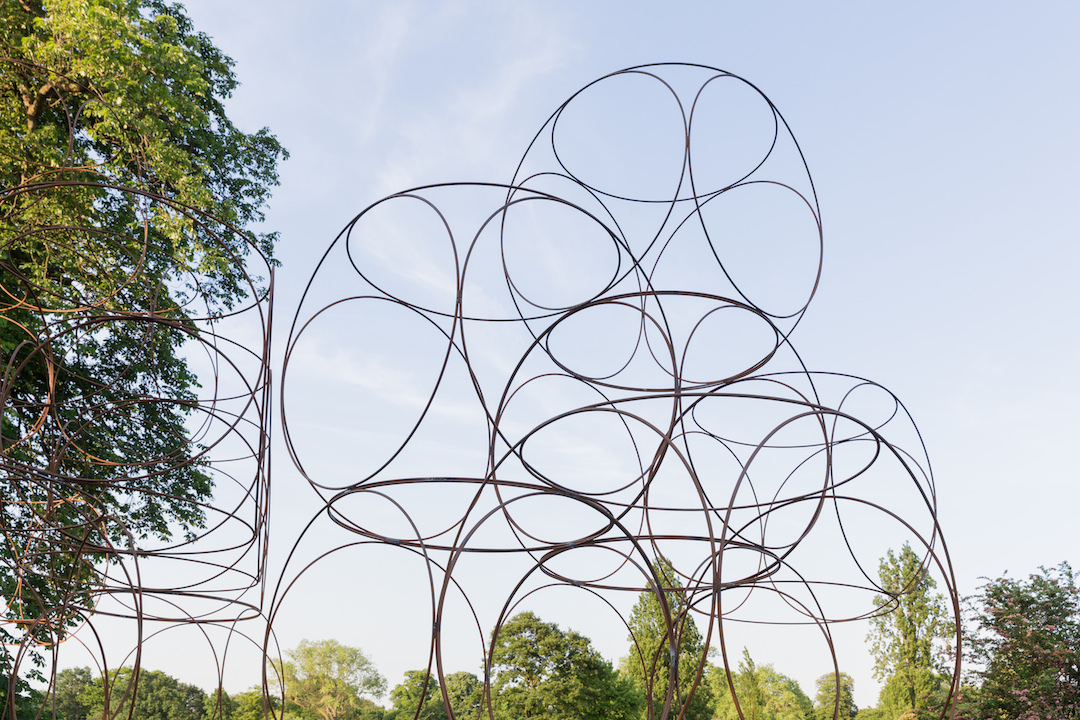 Yona Friedman
A squiggly modular design that can be arranged in different formations, Parisian veteran Yona Friedman's Summer House picks up on his pioneering late 1950s project La Ville Spatiale (Spatial City). A space-chain structure, representing a fragment of a larger grid, it explores mobile architecture using elevated space to save on land footprint (vital for growing cities). It also encourages customisable spaces, allowing residents to define their own modular homes – a future-forward vision by this 93-year-old visionary.
BELOW: The original, classical Queen Caroline's Temple by William Kent, inspiration for all four summer houses
www.serpentinegalleries.org
The Serpentine Pavilion is open daily (free entry), 10am-6pm, until 9 October 2016 at the Serpentine Gallery, Kensington Gardens, Hyde Park, London W2 (closed 6 July until 1pm 7 July). Event programme Park Nights runs until 23 September 2016.
Photos by Iwan Baan; Queen Caroline's Temple photo by Garry Knight