Indian architect Bijoy Jain brings handmade bamboo architecture to Melbourne's latest MPavilion
BY SOPHIE DAVIES
Melbourne's MPavilion series of temporary pavilions is always inspiring, with 2016's offering by Indian architect Bijoy Jain of Studio Mumbai demonstrating that there is still a place for natural materials in the 21st century. Formed from seven kilometres of bamboo, 26 kilometres of rope and 50 tonnes of stone, the 16.8 metre square summer pavilion represents traditional craft. 'I want it to be a symbol of the elemental nature of communal structures,' says Jain, 'A space to discover the essentials of the world and of one's self.'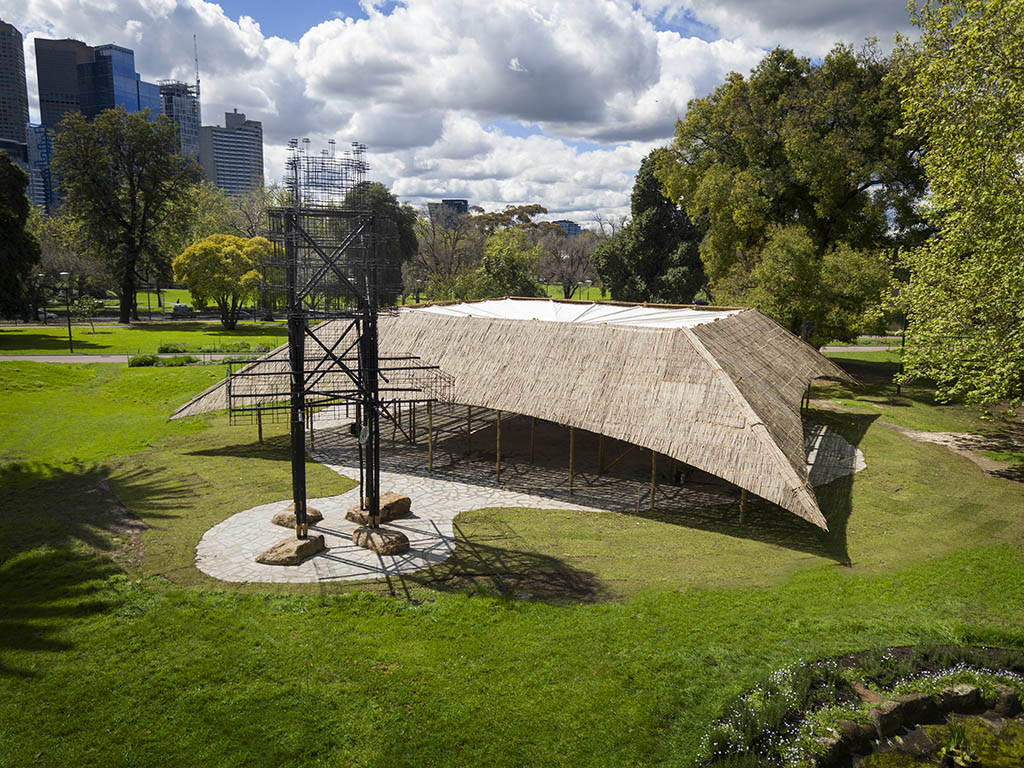 ABOVE AND TOP: 2016's MPavilion in Melbourne is formed from sleek bamboo, rope and stone, with an adjacent entrance tower
Launched this October by the Naomi Milgrom Foundation, the pavilion is in Queen Victoria Gardens opposite NGV International. Check out the space while enjoying coffee by Three Thousand Thieves (daily, 9am–4pm), or take part in the free four-month programme of events, which spans design and architecture workshops and talks, live music and DJs, yoga and installations, films and fashion shows, kids' activities, dog walks and even a zombie dance class.
ABOVE FROM TOP: An opening in the square pavilion roof connects earth and sky; below it a golden well celebrates water within the paved, airy interior
In contrast to the contemporary, high-tech visions of the previous two annual pavilions – by Sean Godsell and Amanda Levete of AL_A – Studio Mumbai's calming, low-fi structure is part of an international movement championing handmade, human-centred architecture. Jain believes in 'lore', a body of traditional knowledge passed on by word of mouth. At Studio Mumbai this translates into working collaboratively with local artisans and craftspeople to design and build projects though an explorative, creative process. The result harnesses generations-old skills, building techniques and materials, and the ingenuity that arises from working with limited resources. The studio also aims to reflect each location, here the natural park setting, producing architecture 'that contains the life of its environment.'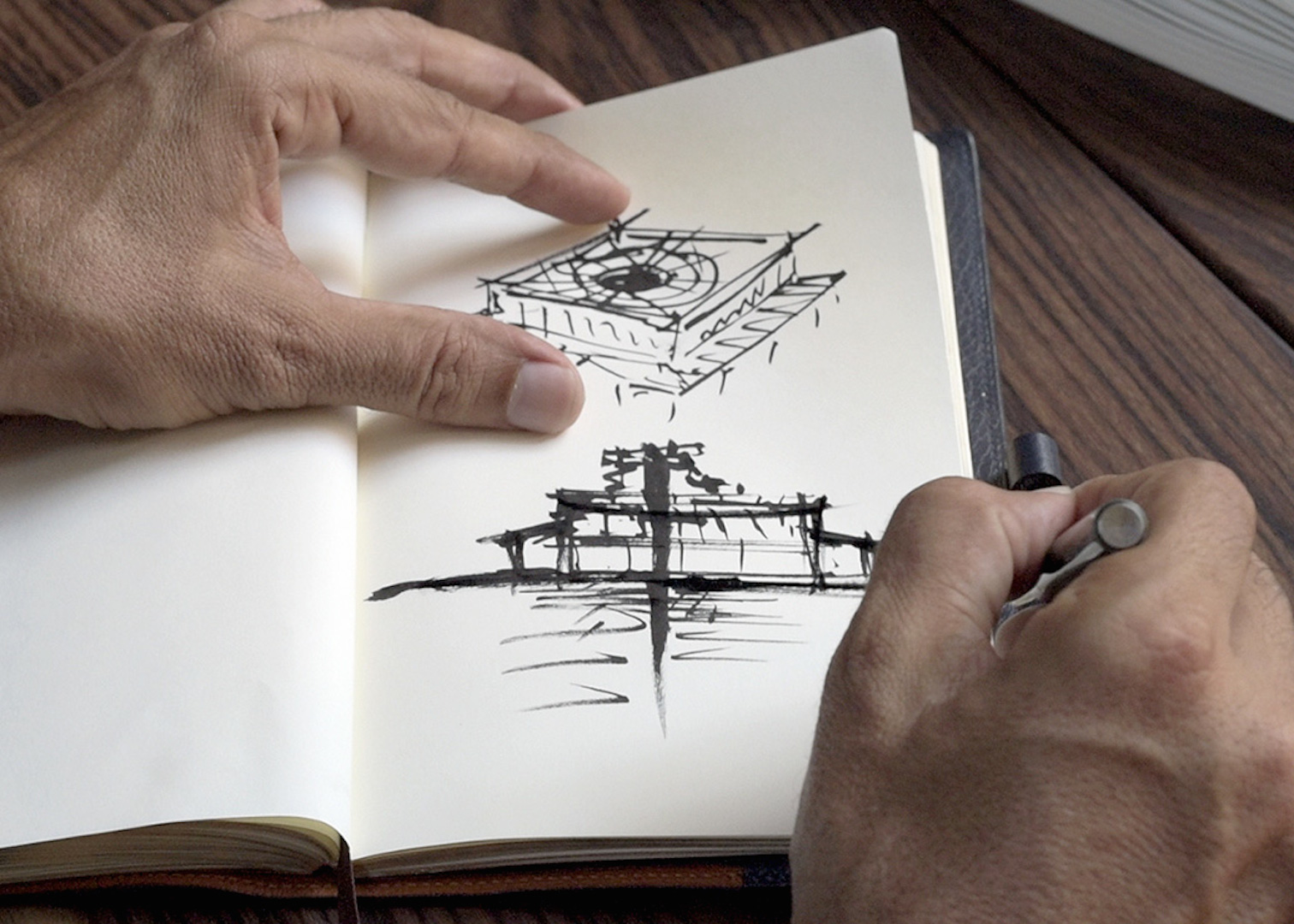 ABOVE: Models and sketches contributed to the design development
Set on a bluestone floor, sourced from Victoria's Port Fairy, MPavilion features an opening in the centre of its roof to connect earth to sky. Below it sits a golden well symbolising water's vital status. Bamboo poles from India are pegged with wooden pins and lashed together with rope. Slatted roof panels hail from the karvi plant, with sticks woven together by Indian craftspeople. Beside the pavilion a 12-metre-high 'tazia' entrance tower, used in Indian ceremonies, provides a dynamic welcome. Lighting by Ben Cobham of Bluebottle transforms the pavilion at twilight in sync with a soundscape by artists Geoff Nees and J David Franzke.
ABOVE: Naomi Milgrom commissioned Indian architect Bijoy Jain of Studio Mumbai to create 2016's MPavilion
Popular throughout Asia as a building material, bamboo is still widely used as scaffolding even in cutting-edge cities such as Hong Kong. Earlier on the Fizz we shared Vietnamese architect Vo Trong Nghia's 'Green Ladder' bamboo installation, still on show at Sydney's Sherman Contemporary Art Foundation, inspired by the eco-friendly potential of this 'green steel'. Ilse Crawford's 2016 'Viktigt' collection for IKEA also celebrated bamboo as a flexible, eco-chic material for furniture and homewares. 2016's MPavilion proves nature and architecture can walk hand in hand – the perfect match for summer...
mpavilion.org
MPavilion is at Queen Victoria Gardens, Melbourne until 18 February 2017
Pictures: John Gollings; models and sketches, Studio Mumbai