The Fizz goes for a ride in Mumbai and Delhi's incredible pattern-tastic taxis and rickshaws. All aboard!
BY DEE IVA
If you've caught a taxi in Mumbai or Delhi in the past year you might have noticed that the interiors have moved on from worn out plain leather, velveteen and traditional intricate illustrations. There's now a whole new wave of Indian designers putting their stamp on India's taxis, bringing a bright, fresh and contemporary vibe to your ride around town.
Based in Mumbai, Taxi Fabric was founded in 2015 by art director Sanket Avlani to form a platform for local designers to use symbols and stories from the city to create new designs for its fleet of taxis. Artful typography, Bollywood stars, Mumbai art deco architecture and heroic female figures are just some of the images that now adorn the interiors of both Mumbai and Delhi's taxis.
ABOVE: 'Bombay Deco' by Sarah Fotheringham and Maninder Singh of Safomasi is the result of a collaboration with Architectural Digest India and Taxi Fabric
ABOVE RIGHT: Taxi Fabric founder and curator Sanket Avlani
ABOVE FROM TOP: 'Pitter Patter' by Chithkala Ramesh references India's rainy season; Aniruddh Mehta's monochrome 'Auto Chaos' rickshaw designs; Under the influence of ultraviolet lighting with 'Nocturnal' by Aditi Dash
Each design is digitally printed on fabric and then applied to seating, doors and ceiling to create an immersive design experience. Whether you're feeling the force of Chithkala Ramesh's Indian monsoon, or tripping out under Aditi Dash's psychedelic UV installation, it's one cab ride you won't forget in a hurry. Unusually for a continent known for its searing colours, monochrome has also made its mark in striking geometric designs by Aniruddh Mehta, who used a mix of rhomboids, triangles, stripes and dots to create an optically stimulating architectural interior in one of Mumbai's motorised rickshaws. To celebrate the fourth anniversary of Architectural Digest India, Mehta was one of four designers chosen by ADI to devise architecturally inspired interiors with Taxi Fabric.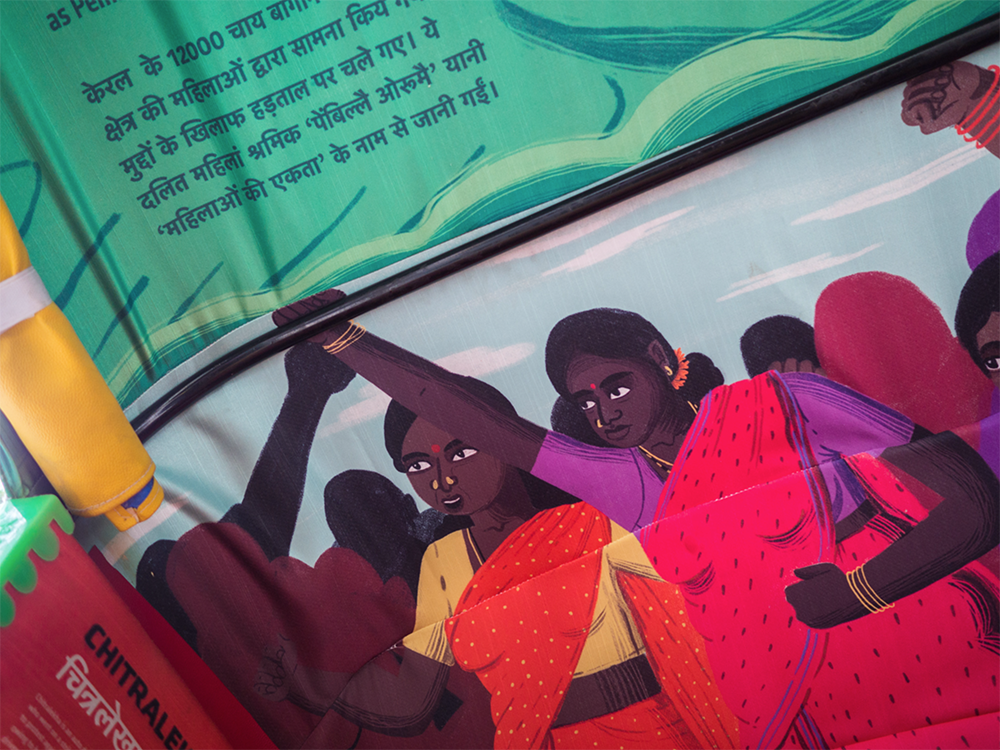 ABOVE FROM TOP: Inspirational female activists and freedom fighters are captured in 'Celebrating Women Leaders' by Kruttika Susarla; Taxi Fabric's first collection of textile designs for the home
Originally started as a Kickstarter campaign, Taxi Fabric is now branching out into textiles for the home, with colourful graphic fabrics suitable for upholstery and soft furnishings. Beautifully drawn, we're hoping to see them popping up around the globe in 2017. Keep your eyes peeled and watch this space…
taxifabric.org
Pictures: Architectural Digest India, Amey Kadam, Sanskar Sawant, Pulat Bhatnagar, Taxi Fabric